I ran across the article from Bret Contreras and it really resonated with me.  I was thinking of one of my clients who was training with me after a major back surgery and how she was instructed to "not lift more than 50 lbs" and to "add 10lbs" to that total each month.  Now; this seems like great advice on the surface but it doesn't really factor in the differences between exercise selection or one's center of gravity.  There were certain lifts that absolutely my client should adhere to this arbitrary number but on others…..well – it just didn't make a lick of sense!  Long story short my client is doing amazing and we have a running joke where I'm always like "just don't tell your doctor how much was on the bar today!-)"  I'll let Bret take it from here and I truly hope you find his story inspiring and no longer let someone tell you that you can't do something!  Enjoy the read! – nate
Gene Lawrence is a badass. He's a 74 year old powerlifter who has set tons of records in his sport. He didn't start training for powerlifting until he was 69. Last year, he squatted 225, benched 260, and deadlifted 365, all raw. Last year he also tore his left rectus femoris falling down in his driveway.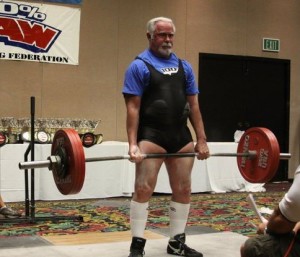 The doctor who performed his surgery told him he'd never squat again. His physical therapist told him the same. I knew better. I told Gene that within a year he'd probably be squatting his all-time best.
As a lifter, I've heard many stories of doctors (and sometimes physical therapists) informing lifters that their careers were finished or that they'd never be able to perform a certain lift ever again. Rarely is this advice appropriate.
Doctors and physical therapists are overly cautious due to liability issues. Their primary concern isn't about how passionate you are for powerlifting or any other sport, it's about keeping you injury-free so that they don't get sued. And the best advice to keep somebody injury-free is to tell them not to lift heavy anymore.
Note from Nate:  There is definitely a risk to reward factor when it comes to weightlifting.  However, generally speaking you should ALWAYS be trying to get stronger.  Also, the term "lift heavy" can mean a whole loft of different things to a whole lot of different people. After having the opportunity to hold a weightlifting clinic for my old high school baseball team all I could think to myself is how much stronger all of the women I currently train are than these "athletes"!  I would totally recommend a TON more weight for my 50+ year old corporate executive or 60 year old retired teacher than I would ever, ever, ever recommend to the High School's starting short stop!!  You would be amazed at what you can accomplish with a little know how and consistency.
Nevertheless, numerous powerlifters over the years have come back following "career-ending injuries" to set all-time PR's. Donnie Thompson is the only man to total 3,000 lbs (1,265 lb squat, 950 lb bench, 785 lb deadlift). Many people don't know this, but several years back Donnie suffered a horrendous back injury and herniated three discs. He could barely walk, but he got out of bed and rehabbed himself every day. Within three months he was back to heavy squatting and setting PR's. Got that? Setting personal records three months following an injury that herniated 3 discs!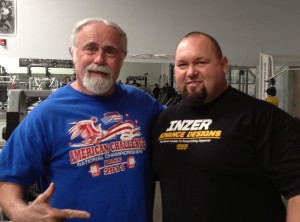 Following his rectus femoris repair surgery, Gene spent approximately 4 months with his physical therapist, strengthening his quads and hips and regaining flexibility. After that, he returned to training with Charles Staley and me.
Immediately, Charles and I had him performing tons of bodyweight hip thrusts and back extensions to strengthen his posterior chain. We also started him off on deadlifts. For two weeks it was rack pulls with light weight, and from then on it's been from the floor. After a month, we implemented bodyweight box squats. Two weeks later we had him performing goblet squats. Two weeks later came the barbell for squats.
In just 4 months of training with us (and 4 months with the physical therapist before that), Gene has recently squatted 215 lbs (20 lbs off of his all-time best), benched 258 lbs (3 lbs off of his all-time best), and deadlifted 330 lbs (35 lbs off of his all-time best at this weight). He'll soon beat his squat record, just as I predicted. It's not easy returning from a surgery when you're 74 years old, but Gene may soon start setting PR's due to the hard work and consistency he's put forth (Charles and I put him on a very regimented schedule).
Here's what Gene's doctor and physical therapist failed to understand. Powerlifting is what makes Gene tick. It gives him strength, courage, and zeal in life. Gene's home gym is his pride and joy – it houses his hundreds of powerlifting trophies and plaques. Setting PR's gives him a reason to get up and train. It's in his blood. If you're a fellow lifter, you get it.
What if Gene had listened to his surgeon and PT? He'd probably have quit lifting, which would have negatively impacted his physical health and devastated his psychological well-being.
If you suffer a serious musculoskeletal or soft-tissue injury, here's what you should do:
1) Never rush the healing of an injury
2) Embark upon a gradual, progressive rehabilitation program
3) Find a doctor and physical therapist who understand strength & conditioning (there are indeed plenty of great doctors and PT's out there who also understand S&C – these are the types I gravitate toward).
Here's what you should not do:
1) Solely listen to the advice of one doctor or one physical therapist
2) Give up on a sport or activity before the rehab process has terminated. Nobody can know for certain how an individual will bounce back following an injury.
Probably ninety percent of doctors don't even lift.
The majority don't understand strength training, the mental attitude required to be consistent in the gym, and the pride that accompanies weight room strength. Due to their ignorance and fear of heavy strength training, they often utter ridiculous advice.
Note from Nate:  TOO TRUE.  Remember my client I mentioned earlier?  The one who had a major back surgery.  She was explaining to her surgeon about how we always trained in a "neutral spine" position.  His response was something along the lines of "Neutral Spine? Interesting?!?! – Tell me more!!".  You see; he can name every ligament and nerve in there but probably hadn't given much though to the differences between a rack pull, block pull, RDL, Deadlift, Trap bar deadlift, and all of these with various grip usage such as alternating grip, pronated grip, snatch grip, supinated grip, with straps and without straps, and etc; etc; etc….
For example, doctors will usually tell you to stop lifting weights at the slightest sign of danger.
Elbow hurts? Don't lift. Knee hurts? Don't lift. Back hurts? Don't lift.
Why can't you just work around the problem?
If your knee hurts you can still likely perform weighted back extensions and keep your posterior chain strong. If your elbow hurts you can still train legs, core, and some upper body muscles. If your back hurts you can still perform single leg exercises and certain upper body exercises. There may be times where it's wise to completely avoid strength training, but this is far more rare than what the doctors tell you, and a savvy lifter can always work around an injury.
Moreover, the vast majority of doctors and PT's don't adequately comprehend biomechanics. In our Hip Extension Torque product, Chris and I teach readers how to calculate estimations of torque loading during squats, deadlifts, and other hip extension exercises. I believe that this is a skill that many physical therapists and orthopedic doctors would benefit from – it's definitely improved my skills as a personal trainer.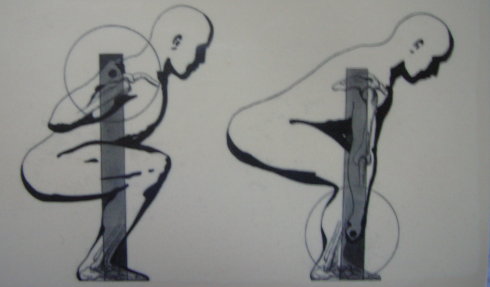 I can't tell you how many times I've trained a client whose doctor or PT informed them that they weren't allowed to perform an exercise such as a squat or a deadlift, only to find out that they were prescribing an exercise that put just as much torque loading (or more) on the joint in question as the exercise they condemned.
Upon inquiry, I discover that the doctor or PT did not examine the client's form in order to reach his conclusion; he just offered a blanket statement to cover his ass.
Another common fallacy I see with doctors – they'll often tell certain clients (let's say a pregnant lady a back surgery recipient) that they're never to lift anything greater than a certain weight, for example 30 pounds.
However, biomechanics determines the loading on different parts of the body; the interplay between the body position, posture, load, gravity, and inertia need to be considered. A 30-lb kettlebell deadlift positioned directly underneath the center of mass and lifted with proper form with neutral spinal alignment will create far less spinal loading than lifting a 30-lb oddly shaped object positioned out in front of the lifter with a twisted set-up.
Contorted body weight exercises can be more harmful for the spine than 135 pound barbell exercises performed with perfect form.
Never is a very strong word.
With proper progressive training and excellent form, people can usually build themselves up to be quite strong. It would be far more fruitful to teach proper mechanics than to place a limit on loading and thereby instilling a lifelong fear of strength training.
Nocebo effects are unnecessary and counterproductive.
The squat is well-tolerated if you understand progression-regression continuums. If you start at the appropriate level and perform the movement properly by sitting back and ensuring that the knees track over the feet, then there's no reason to worry. You can start with high box squats and work your way down in ROM, then add load in the goblet position. People have to squat in their every day lives, so there's no avoiding the movement pattern. You can either pretend the squat doesn't exist, or you can take the time to make sure the individual is squatting correctly; distributing the load properly to the hips in order to spare the knees.
Many lifters with knee problems shouldn't avoid squats altogether; they should learn how to squat properly with low load joint-friendly squatting variations. If volume, intensity, and frequency are kept low, these drills are usually therapeutic and prevent future injury.
Lifters with back problems shouldn't automatically avoid hip-hinging.
They should learn how to hinge at the hips while preventing excessive motion in the spine and develop their gluteals. Rack pulls, deadlifts, trap bar deadlifts, kettlebell deadlifts, kettlebell swings, 45 degree hypers, back extensions, and even bodyweight reverse hypers are all good choices as long as proper form is utilized.
Many individuals do not keep a relatively neutral spine during many of these movements because they compensate for weak glutes by utilizing excessive spinal motion. If these individuals never master hip hinging mechanics, how will their form look when they pick things up off the ground or perform yard work?
Again, the solution isn't to avoid the movements, it's to teach and ingrain proper mechanics.
There are indeed plenty of situations where certain individuals would be better off avoiding heavy loading with certain exercises. For example, not everyone is well-suited for squatting and deadlifting. But this doesn't mean that they couldn't include goblet squats and dynamic effort deadlifts into their warm-ups so their squat and hip-hinge form remains solid throughout life. But these same folks can find other lifts that they tolerate well, for example Bulgarian split squats, hip thrusts, and Russian leg curls, and they can build up incredible size and strength through these lifts.
It is not my intention to bash all doctors and physical therapists.
I'm friends with plenty of world-class docs and PT's who possess incredible knowledge of S&C. But just as with any profession, there's a huge gap between the top tier and the average doc or PT when it comes to S&C knowledge. The same goes for strength coaches and personal trainers – there's a huge gap between the top guys in the field and the rookie globo gym employees.
Luckily, Gene has two competent strength coach friends (Charles and me) who know what makes him tick and helped him formulate a plan of action. Last weekend, Gene competed in a PL contest and met a fellow 91 year old powerlifter who inspired him. That's how I want to be – pullin' heavy deads til the day I die. Keep doing your thing Gene!