I've been on a bit of a Bret Contreras kick lately.  I love this post as it motivates me to want to go to the gym immediately.  No matter who you are and no matter where you are starting from there are some compelling reasons to start LIFTING.  – Nate
Lifting weights is good for you. You don't need me to tell you that, it's common sense.
Most people intuitively understand that sedentarism is not a good idea, and that exercise (especially resistance training) will do their bodies a lot of good.
Below, I've compiled 30 great reasons why you should adhere to an exercise regimen. Each of these reasons has at least one published paper supporting the claim. Aerobic and resistance exercise can help:
Maintain functional ability
Prevent osteoporosis
Prevent sarcopenia
Increase insulin sensitivity and decrease insulin resistance
Increase metabolic rate
Improve glucose metabolism
Decrease systolic and diastolic blood pressure and arterial stiffness
Decrease body fat and central adiposity
Improve gastrointestinal transit time
Reduce the risk of diabetes
Reduce the risk of heart disease
Reduce the risk of cancer
Reduce the risk of falls, fractures and disabilities
Decrease cardiovascular demands of exercise
Decrease triglyceride, total cholesterol, and LDL cholesterol levels
Increase HDL cholesterol levels
Increase muscle and connective tissue strength and hypertrophy
Increase mobility and flexibility
Increase joint stability
Improve balance and coordination
Improve posture
Increase brain/cognitive function
Increase confidence, self-esteem, and happiness
Combat depression and anxiety
Combat metabolic syndrome
Combat frailty syndrome
Improve function in people with cancer, dementia, osteoarthritis, fibromyalgia, post-stroke disability, lupus, asthma, diabetes, ADHD, heart disease, Alzheimer's, autism, bipolar disorder, COPD, epilepsy, low back pain, neck pain, chronic headache, and erectile dysfunction
Increase strength, power, speed, and endurance
Prevent ACL, hamstring strain, lumbar, ankle sprain, and shoulder injuries
Improve quality of life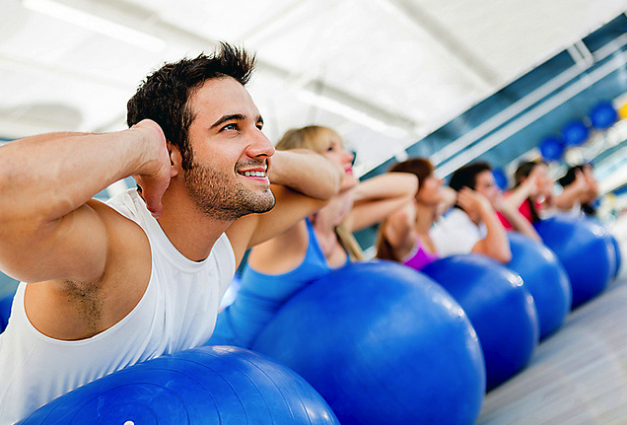 It took me many hours of researching to compile this list, and this list provides compelling reasons why everyone should exercise. But let's not kid ourselves. Though we all like being healthier and fitter, many of us primarily train for physique purposes.
In fact, the primary reason why women exercise is for weight control (87.5% of women), and the primary reason why men exercise is for muscular definition (84.7% of men).
We all have different reasons for exercising.
My reasons are going to differ from your reasons.
But I'm just going to be honest here and list my top 6 reasons for lifting. I'm well aware that most of these reasons are vain and selfish in nature, but considering the health benefits of exercise, there are far worse evils.
1. Attract More Physically Attractive Partners
Being fit doesn't give you an excuse to be a jerk or to not practice chivalry.
However, it will get your foot in the door with a greater number of attractive people. Sure, we've all seen plenty of mismatched couples in terms of physical attractiveness. Beauty is in the eye of the beholder, and many people gravitate toward partners that make them laugh, feel good about themselves, or inspire them in one way or another.
On the other hand, some people will prefer a wealthy mate that will spoil them with gifts and a life of luxury. But make no mistake about it, when most people describe their ideal mate, the individual they describe is physically fit and attractive. If you would like to date someone with a rockin' body and bangin' booty, you should probably look the part yourself. Princess Leias rarely want to be with Jabba the Hutts.
Plus, getting fit takes much less time than getting filthy rich.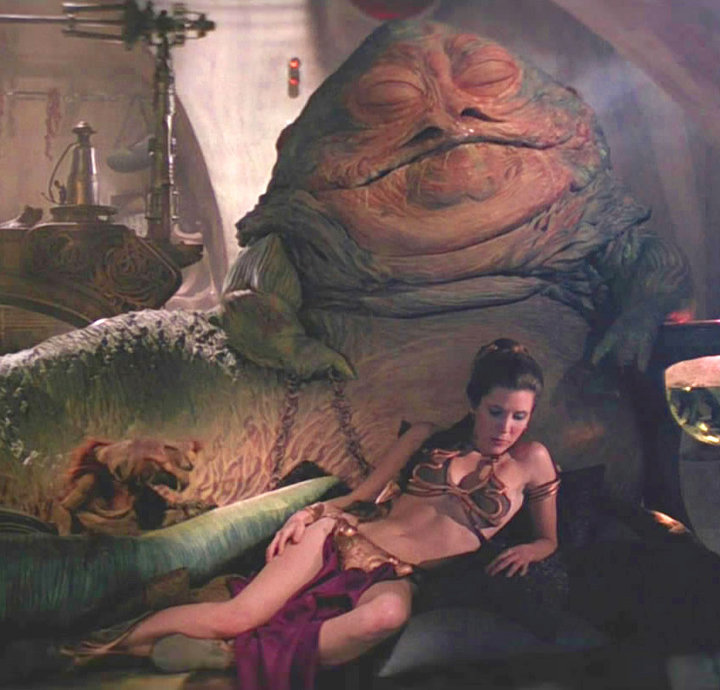 If and when you get your chance with a high caliber individual, you'll need to demonstrate good attributes if you want the person to stick around.
There are hundreds of these characteristics, and they include sense of humor, confidence, personal hygiene, attire and style, charisma, integrity, humility, intelligence, competence, optimism, attentiveness, generosity, sexuality and romance, class, tact, ability to have fun, willingness to compromise, assertiveness, dependability, kindness, passion and compassion, courtesy, calmness, affection, ability to lead, work ethic, drive and ambition, daringness, loyalty and trustworthiness, supportiveness, openness, thoughtfulness, special talents, unique mannerisms, scent, and success.
Don't make the mistake of thinking that just because you're fit, you'll get a free pass to be lousy in every other area of life.
I'm now engaged to my fiancee Diana, so I'm no longer on the prowl, but that doesn't diminish my fuel to train like a beast. I want to look good for her and give her more reasons to want to sleep with me.
2. Have More Confidence
Being confident is vital for success.
It will help you in relationships and in your career. Confidence is linked to higher income, and it's a desirable characteristic in potential mates. Speaking from personal experience, having muscles and being strong improves my confidence so I can be a more effective personal trainer and public speaker.
During the times in my life when I wasn't quite as fit and was storing more bodyfat, I didn't feel confident meeting women or exploring new opportunities.
3. Detract Bullies
I despise bullies.
I got picked on quite frequently throughout grade school and even high school, which never sat well with me. I've never picked a fight in my entire life for no particular reason other than to dominate another person, and it's never occurred to me that I could push someone around just because I'm bigger or stronger than them. But this isn't how bullies operate. They're in constant search for someone they can manipulate and overshadow.
Being muscular, strong, and confident is a good repellent for bullies. They're more likely to pursue someone else than mess with someone who might be able to whoop their butts if they push things too far. Being confident will also help you better deal with bullies, since you'll be less likely to give a crap what scummy people think about or do to you.
4. Increased Caloric Intake
I have a confession to make. At around midnight, I turn into a serious food creep. I find myself pacing up and down the kitchen, stalking the cupboards and refrigerator.
If I didn't lift weights, I'd probably look like Jabba the Hutt. I have a voracious appetite, and I have an affinity for particular foods. I probably eat around 5 cheeseburgers per week.
I love my cereal. I eat tons of macadamia nuts, yogurt, dried cherries, and dark chocolate. Having extra muscle mass and training intensively allow for markedly greater caloric intake while still being able to look good. I have a lot of wiggle room with my food selection since I regularly consume around 4,000 calories per day.
Having a high metabolism makes dieting down much easier when seeking to lean out. And knowing that a big meal is going to be used for replenishment, repair, and fuel for upcoming workouts rather than fat accumulation is very comforting.
Note from Nate: Uh……this is easily my favorite reason for working out!!
5. Look and Feel Athletic
I haven't played sports in a long time.
I'm sure I can't dunk anymore and I'm probably pretty slow and uncoordinated on the field.
But I sure don't feel that way. I can bust out a heavy full squat and deadlift with perfect form.
My hips, shoulders, knees, and back feel healthy. My strength is solid. If need-be, I can carry heavy things from one place to the next. If I prioritized my athleticism for two months by incorporating plyos, sprints, agility drills, and skill work, I could dramatically improve since I've always kept a large base of strength.
This knowledge sits well with me, as I don't like feeling like I'm over the hill. When I'm out and about, people often ask me what sport I play, which is good for the ego. I don't quite perform like an athlete, but lifting weights helps me look and feel like one.
Note from Nate:  ……AND THIS would by my 2nd favorite reason…..
6. Combat Middle-Aged Syndrome
Even though I'm surrounded by people who are much more ripped and much stronger than me, I'm very proud of my strength and of the way I look.
The picture below was taken last week, and I didn't dehydrate myself or pump up before the picture, nor has the picture been edited in any way. Sure, I could stand to lean out more, but this physique was built with lousy genetics, virtually no cardio, no strict dieting, no performance enhancing drugs, and just progressive strength training 4-5 days per week (around 6 hours of lifting per week).
In less than 2 years, I'm going to be 40 years of age. This old man isn't going down without a fight.
I intend on being a badass 50 year old, a badass 60 year old, and a badass 70 year old.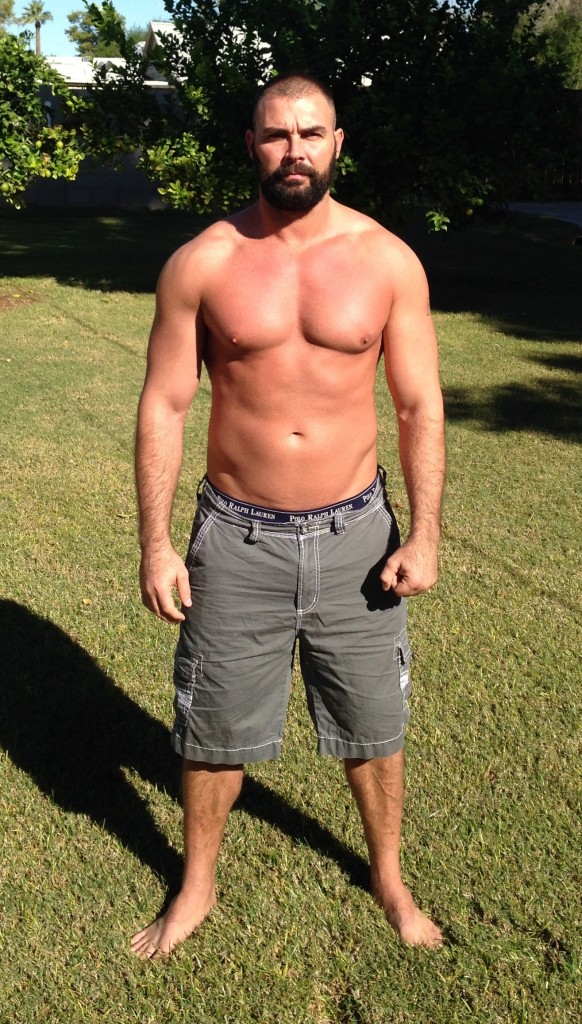 Conclusion
Now you know why I lift weights, but you will have your own reasons for adhering to an exercise routine.
In general, people exercise for health-related purposes, functional purposes, and/or aesthetics purposes.
What's great about exercise is that if you train primarily for one purpose, you'll automatically get the benefits of the other two areas. For example, if you train because you want a better physique, you'll experience the positive side effects of achieving better health parameters and increased functional performance. If you train primarily for improved health, you'll wind up with a better physique and a stronger, more capable body. If you train primarily for function, the end result will also entail looking better and possessing improved physiology.
Many people take their health and fitness for granted and they don't appreciate it until it's too late. If you are currently sedentary, don't wait to embark upon a progressive exercise regimen, start today and experience all of the positive side effects that accompany it!
Note from Nate: Expect a LOT more of Bret Contreras in the near future.  I just can't get enough of his stuff….